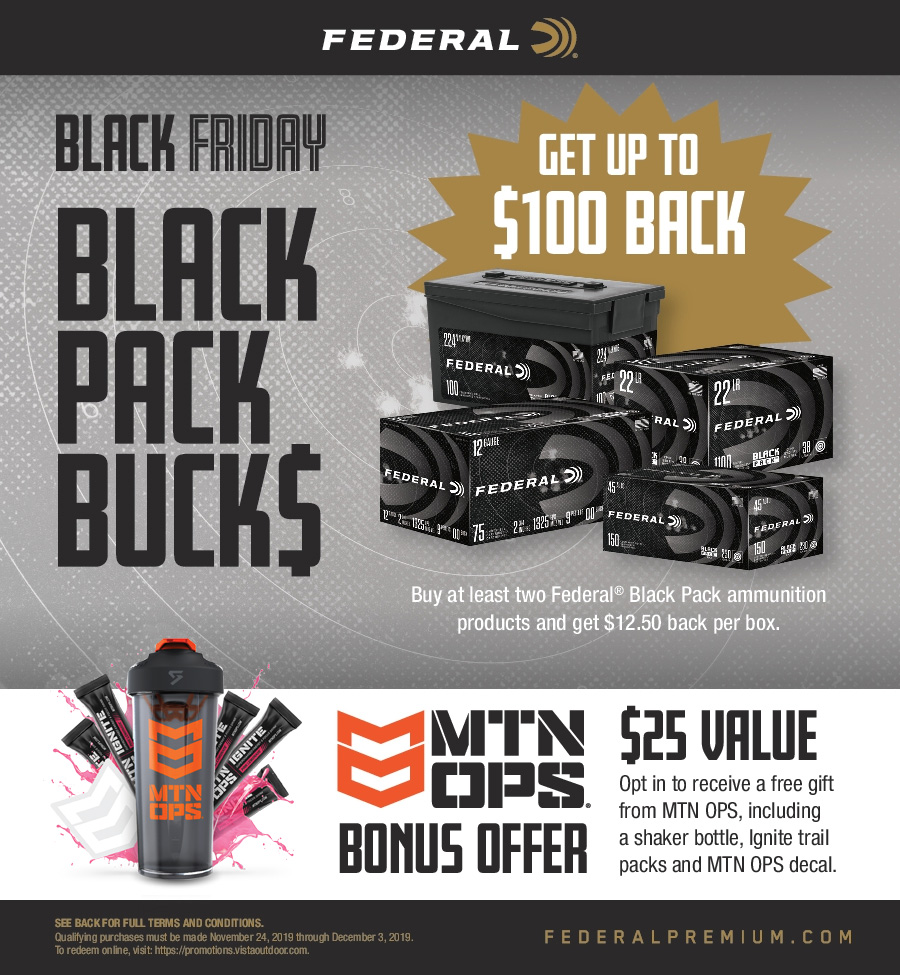 Buy a minimum of two (2) qualifying 2019 Federal® Black Pack* ammunition products and get $25.00 back. (12.50/per box)
BONUS OFFER
: Want to CONQUER MORE? MTN OPS and Federal have teamed up. We'll send you a FREE fully-loaded IGNITE™ Supercharged Energy Sampler, including five single-serving samples, shaker bottle and a logo decal ($35 value), just opt-in to receive email marketing communication from MTN OPS and pay shipping/handling**.

* Qualifying 2019 Federal Black Pack ammunition
is limited to manufacturer part #'s: C9115BP250, C38095BP200, C40165BP200, C45230BP150, AE223BF150, AE224VLKBF100, AE300BLKBF75, AE308BF60, BF127 0075, 788BF1100, 770BF250, 737BF250
Excludes 2018 Black Pack ammunition
manufacturer part #'s: 5202BF350, 5200BF500, 5220BF350, 5230BF300, AE223BF300, 788BF and BF127 00AC1
**Bonus MTN OPS offer requires an email opt-in and a shipping/handling fee of $10. Payment via Visa/Mastercard/Discover card collected at the time of rebate submission.
Minimum purchase of 2 units required
Maximum rebate of $100.00 (8 units) and 1 MTN OPS free gift per person or household.
Product must be purchased between 11/24/2019 through 12/3/2019.
DEADLINE for online submission 12/18/2019
Exclusions apply. See official terms and conditions for details.
Click here for full Terms & Conditions
Click here for step by step instructions to submit
Click here to submit your redemption online