Outdoor Limited Weekend Sale!
Outdoor Limited Weekend Sale Starts August 10th (While Supplies Last)
We are happy to announce the launch of our new website! The new site offers increased capabilities and easier checkout. We are now able to offer cheaper rates on non-ammo purchases with USPS shipping and delivery date estimates on FedEx shipping. You can now view the estimated date of arrival of your order for FedEx shipments.
We were unable to transfer customer accounts and order history from our previous platform. Please create a new account on the site.
As a celebration we are bringing back all of the coupons we have offered over the summer for a customer's choice event.
Only one coupon is valid per order and this deal expires on Monday 8/13/18 at 11:59pm EST.

Rimfire Ammo Sale
Handgun Ammo Sale
Rifle Ammo Sale
Fiocchi Shotgun Ammo Sale
Product Spotlight: PMC Gold Starfire Ammunition!
PMC Gold Handgun Ammunition is loaded with the high performance Starfire Hollow Point Bullet. The Starfire hyper-expands on impact to deliver more stopping power on target, combined with optimal penetration and excellent bullet integrity. It's an unbeatable choice for home and personal defense or Law Enforcement. This ammunition is new production, non-corrosive, in boxer primed, reloadable brass cases.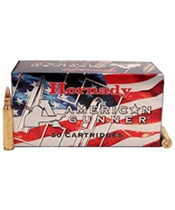 Product Spotlight: Hornady American Gunner Ammo!
The American Gunner® line of ammunition is a collection of tried-and-true, versatile loads that are popular with shooters for their target shooting, hunting or self-defense needs.
Made in the USA with premium components, American Gunner™ ammunition combines generations of ballistics know-how with modern components and technology.
Preliminary offerings feature legendary XTP® (eXtreme Terminal Performance) bullets that have been favorites for decades. Designed for hunting, self-defense and law enforcement applications, the XTP® bullet is exceptionally accurate, and is the choice of many top competitive shooters around the world.
Hornady® American Gunner® ammunition – proudly made in the USA!
FEATURES INCLUDE:
XTP® (eXtreme Terminal Performance) bullets are exceptionally accurate and deliver excellent versatility and superior ballistic performance.
Propellants are matched to each load to ensure optimal pressure, velocity, volume and consistency from lot to lot.
High quality primers and Hornady® cases combine to deliver consistent shooting in the field.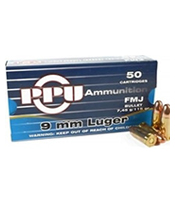 Product Spotlight: Prvi Partizan PPU Ammunition!
Since 1928, Prvi Partizan has been producing custom ammunition in Serbia for competition, indoor ranges and big game hunting. Today Prvi Partizan is a modern factory that is shoulder to shoulder with the most well-known ammunition manufacturers in the world. Offering a wide range of commercial and military calibers for hunters and target shooters throughout the world. All Prvi ammunition meets SAAMI standards and is ran through an internal quality management system to ensure 100% customer satisfaction.
Prvi PPU Ammunition offers high quality ammunition at an affordable price!