Outdoor Limited Weekend Sale!
Outdoor Limited Weekend Sale Starts March 1st (While Supplies Last)
Rimfire Ammo Sale
Handgun Ammo Sale
Rifle Ammo Sale
Shotgun Ammo Sale
Internet Sales Tax!
Due to the Supreme Court decision in South Dakota vs Wayfair, Inc, the previous ruling on internet sales tax collection was overturned. Previously we were not required to collect sales tax if we did not have a physical location. The new ruling requires retailers that merely ship into a state to collect sales tax on behalf of the customers
If tax is not collected on your order, your purchase may be subject to use tax in your state unless your purchase is exempt or your state does not impose sales and use tax. Your purchase is not exempt merely because it is made over the Internet. Please contact the department of revenue in your state for specific tax laws.
For tax-exempt customers please use the following link to upload your state's sales/use exemption paperwork. Please allow 1 business day for us to process your request and mark your account as sales tax exempt.
Upload your exemption form here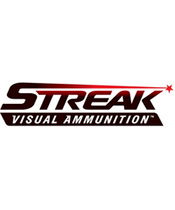 PRODUCT SPOTLIGHT: Streak Visual Ammunition!
STREAK'S EXCLUSIVE PATENTED TECHNOLOGY ALLOWS THE SHOOTER TO VISUALLY SEE THE PROJECTILE'S PATH TOWARDS ITS TARGET. STREAK ROUNDS ARE NON-INCENDIARY, THEY DO NOT GENERATE HEAT SO THEY ARE SAFE TO USE IN ENVIRONMENTS WHERE TRADITIONAL TRACERS ARE PROHIBITED AND CAN BE A SERIOUS FIRE HAZARD. THE RESULTS ARE GAME CHANGING IN MANY ASPECTS FOR THE CONSUMER, LAW ENFORCEMENT AND MILITARY. FOR INDOOR RANGE USE AND NIGHTTIME SHOOTING.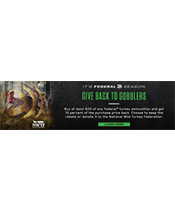 PRODUCT SPOTLIGHT - Give Back to Gobblers!
Give Back to Gobblers
Promotion #: R10010
Spend at least $20.00 on any Federal® turkey ammunition to get 10% of the purchase price back (maximum $20.00). Choose to keep the rebate or direct it to the National Wild Turkey Federation.
Product must be purchased between 2/1/2019 through 5/31/2019.
DEADLINE for mail in or online submission 6/30/2019
Click here for Terms & Conditions
Click here to download mail in form