Outdoor Limited Weekend Sale!
Outdoor Limited Weekend Sale Starts February 1st (While Supplies Last)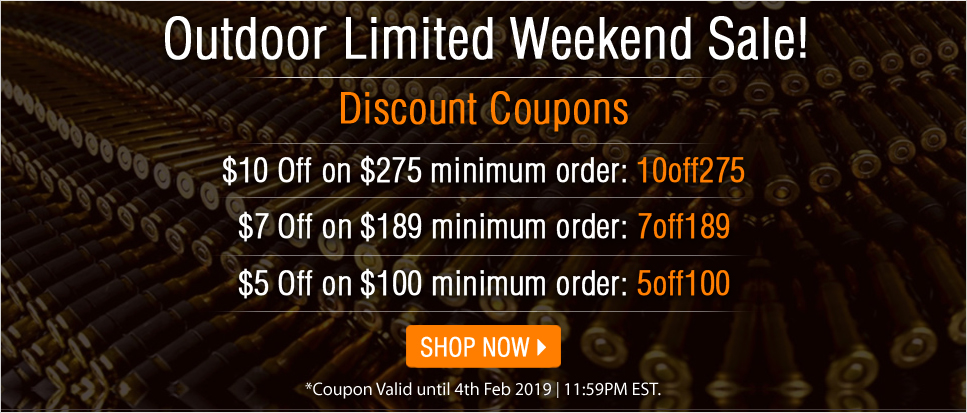 Rimfire Ammo Sale
Handgun Ammo Sale
Rifle Ammo Sale
Shotgun Ammo Sale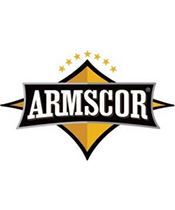 Product Spotlight: Armscor names Outdoor Limited 2018 Internet Wholesaler of the Year!
Armscor Small Arms Ammunition line is one of the largest and most comprehensive in Southeast Asia. The Company offers a wide selection of competitively priced ammunition and components with sales spread throughout the world. Armscor, an ISO 9001 Certified Company, complies with the SAAMI, CIP and other military or customer desired standards or requirements. Armscor cartridges and components are widely used by the police, military, gun hobbyist, combat shooters and other shooting enthusiasts due to its high quality, precise and dependable performance.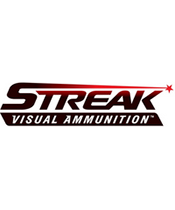 PRODUCT SPOTLIGHT: Streak Visual Ammunition!
STREAK'S EXCLUSIVE PATENTED TECHNOLOGY ALLOWS THE SHOOTER TO VISUALLY SEE THE PROJECTILE'S PATH TOWARDS ITS TARGET. STREAK ROUNDS ARE NON-INCENDIARY, THEY DO NOT GENERATE HEAT SO THEY ARE SAFE TO USE IN ENVIRONMENTS WHERE TRADITIONAL TRACERS ARE PROHIBITED AND CAN BE A SERIOUS FIRE HAZARD. THE RESULTS ARE GAME CHANGING IN MANY ASPECTS FOR THE CONSUMER, LAW ENFORCEMENT AND MILITARY. FOR INDOOR RANGE USE AND NIGHTTIME SHOOTING.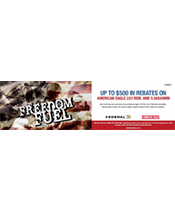 PRODUCT SPOTLIGHT - Freedom Fuel Rebate!
Freedom Fuel Promotion #: R10064
Buy at least 300 rounds of Federal® American Eagle® 223/556 Ammunition and receive $0.05/round rebate.
Minimum purchase 300 rounds of ammunition. Maximum $500 rebate per household.
Product must be purchased between 12/13/2018 through 03/31/19
DEADLINE for mail-in or online submission 4/15/2019
Exclusions apply. See official terms and conditions for details.