Outdoor Limited Weekend Sale!
Outdoor Limited Weekend Sale Starts March 8th (While Supplies Last)
Rimfire Ammo Sale
Handgun Ammo Sale
Rifle Ammo Sale
Fiocchi Shotgun Ammo Sale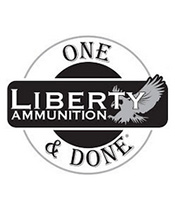 PRODUCT SPOTLIGHT: Liberty Ammunition!
Founded shortly after 9/11, Liberty Ammunition is a world leader in lead-free ammunition, and the sole pursuit has been to develop the world's highest performing ammunition. Liberty Ammunition holds multiple small arms ammunition patents. Using this patented technology, Liberty Ammunition has developed ammunition with exceptional accuracy and performance. Liberty Ammunition entered the civilian market with the highest performing ammunition in the world. Providing superior personal protection and to enhance the game hunting experience. Through our committed pursuit to innovation and quality. Liberty Ammunition offers a broad range of products for the military, law enforcement, civilians, and hunters.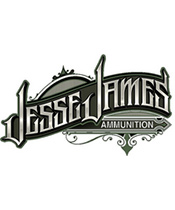 PRODUCT SPOTLIGHT: Jessie James Ammunition!
BALANCING VELOCITY, ACCURACY, AND RECOIL, OUR DEVELOPMENT TEAM CAREFULLY ANALYZES EVERY LOAD TO HELP OUR BALLISTICIANS ACHIEVE A SPECIFIC OUTCOME. PROVEN JACKETED HOLLOW POINT PROJECTILES DELIVER TERMINAL PERFORMANCE TUNED FOR SELF-DEFENCE. LOAD-SPECIFIC DEVELOPMENT ENSURES EXTREME ACCURACY AND CONSISTENCY FOR EACH CALIBER
"When putting my name on a box of Ammo I am only interested in three things. That it's the absolute highest quality, most accurate, and best value for the customer. Jesse James Ammunition is all three," said Jesse James. "I am so proud to be partnering with AMMO INCORPORATED®. The stars have truly aligned for a successful company. AMMO INCORPORATED® CEO Fred Wagenhals and myself have a partnership going back almost two decades. We both are focused and determined to create the best product possible. Also we bring a new approach to the ammunition industry."
~ Jesse James ~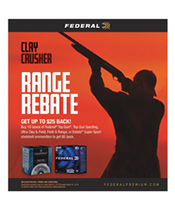 PRODUCT SPOTLIGHT - Federal Clay Crusher Range Rebate!
Buy one (1) case (10 boxes) of Federal® Top Gun®, Top Gun Sporting, Ultra Clay & Field, Field & Range, or Estate® Super Sports shotshell ammunition to get $5.00 back ($0.50/box).
Maximum rebate $25. Minimum purchase ten (10) boxes required.
Product must be purchased between 3/1/2019 through 8/31/2019.
DEADLINE for mail-in or online submission 9/30/2019
Click here to download mail in form